The book that finally speaks the truth about FAMILY HOMELESSNESS
and offers strategies to address this growing crisis.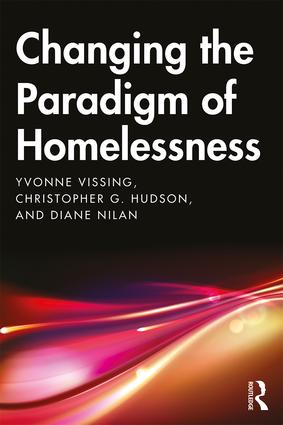 CHANGING THE PARADIGM OF HOMELESSNESS

YVONNE VISSING, CHRISTOPHER HUDSON, DIANE NILAN

PUBLISHER: ROUTLEDGE (Taylor & Francis Group)

ORDER (adjust location to US on top right dropdown menu)

Changing the Paradigm media coverage, journal articles:

Need for this Book

For the past 3 decades, homelessness in the U.S. has been defined and addressed by HUD (U.S. Department of Housing and Urban Development). During that time, homelessness has skyrocketed, with no end in sight.

For that same period, some people, including the authors, have maintained that HUD's approach was inadequate and skewed, particularly because it ignored families, creating a feeder-system for adult homelessness.

The crowds at our NYC book launch kept us hopping! Sold lots of books! Generated plenty of interest!! Pat LaMarche was a great help in drawing in the crowds!

About the Authors

Yvonne Vissing is a Professor of Healthcare Studies, and previously Professor and Chair of Sociology, at Salem State University, where she is the Founding Director of the Salem State University Center for Childhood and Youth Studies. She was appointed Policy Chair by the United Nations for child rights under the Convention on the Rights of the Child, and she is a long-term board member of the National Coalition for the Homeless.

Christopher G. Hudson is Professor Emeritus in the School of Social Work at Salem State University. In addition to his responsibilities at Salem State, he has been elected as the President of the 7,700-member Massachusetts Chapter of the National Association of Social Workers. He is the recipient of numerous awards, including the NAMI-MA Research of the Year Award, and two William J. Fulbright Senior Faculty Awards, one in Hong Kong (2002/2003) and the other in Prague, CZ (2017/2018). He has also taught and conducted research in international mental health at universities in Auckland, Hong Kong, Jerusalem, and London.

Diane Nilan is the founder and president of HEAR US Inc. and has three decades of experience running and managing homeless shelters and advocating for improved state and federal homeless policies. She has filmed and produced two award-winning documentaries – My Own Four Walls and On the Edge: Family Homelessness in America, wrote the book Crossing the Line: Taking Steps to End Homelessness, and has given numerous university and congressional addresses on homelessness.

Yvonne and Diane pose at the NYC book launch at the BeyondHousing2020 conference.

GET WORD OUT!

Colleges, Universities (they're ready to select books for Fall)
Libraries
Continuum of Care Groups, Homelessness Organizations
Legislators, Policymakers

NOVEMBER 2020 - Diane released her memoir/social narrative, Dismazed and Driven - My Look at Family Homelessness in America. It's a PERFECT companion to Changing the Paradigm!

Table of Contents

Preface; Part I Background of Homelessness in the USA; Chapter 1 The Dilemma; Chapter 2 The Definitions to Numbers Debacle; Chapter 3 Why Did We Get Here: Theoretical Explanations of Homelessness; Chapter 4 How Did We Get Here? History of Homelessness Policy; Chapter 5 Where We Are Now; Part II Homelessness Paradigm Options; Chapter 6 What's The Current Paradigm?; Chapter 7 Let Others Fix It Paradigm; Chapter 8 The Housing Paradigm; Chapter 9 The Money Paradigm; Chapter 10 The Human Dignity Paradigm: References; Appendix A: Business Plan for Building A Shelter

> Click on the section below and save it as an image. You can then print it or share it.