HEAR US Media Releases CLICK HERE
NEWS STORIES ABOUT HEAR US/DIANE NILAN:
SOUTHERN DI
SCOMFORT TOUR stories
Carlisle, PA, reports the return of voyager Pat LaMarche after this amazing journey. Cumberland.com (Sentinel), 2/1011
Birmingham, AL, HEAR US discovered a story in the making--about a movement to serve homeless youth in this community. The local organizers welcomed the Southern DisComfort Tour with great media and a room filled with eager concerned citizens.
Mobile, AL, despite a raging rainstorm, found an eager group of community activists and folks--homeless and not--to hear about homelessness in the southeastern states. Press-Register story, 2/1/11
Tallahassee provided a great opportunity to share on the edge with an audience of persons who are homeless. Here's a TV news clip. (1/29/11)
In Carlisle, PA, media coverage of our tour from local paper thanks to Pat LaMarche (HEAR US Advisiory Board).
Shelby, NC, one of the many stops on the HEAR US/Safe Harbour "Southern (Dis)Comfort" tour. Great media coverage. Tremendous response. Wahhooo!
---
Las Cruces, NM, a place Diane has frequently visited to film, speak and observe, is the home of Tina and her 6 children. Diane met them January 2010 and filmed Tina's story. They've kept in touch through a saga of brutal homelessness, uncertain housing, and pending homelessness again. Tina's courage to share her story attracted vile comments from Las Cruces Sun readers. 1/7/11
Aurora, IL, Diane's Previous Home Weighs In - A columnist in Aurora, Deena Bess Sherman, interviewed Diane recently. The Aurora Beacon News story reflects her commitment to ending homelessness. 1/7/11
Mississippi HEAR US Visit Raises Awareness - Diane's been to Starkville, Mississippi twice, both times meeting with Mayor Parker Wiseman. Her visits were spurred by a tragic fire in Dec. 2009 that took lives of 3 women and 6 young children. The Starkville Daily News story nicely covers the encounters. 11/30/10
Michigan Provides Opportunity to Share HEAR US Documentaries - Diane was invited to speak at 2 events in Adrian, MI for National Homelessness and Hunger week. This community has made tremendous strides in alleviating homelessness for adults, families and teens. One group was honored at the event.
on the edge Director Laura Vazquez did an extensive interview with WNIJ's Guy Stevens sharing her observations about the women in our documentary and family homelessness. Full interview (16 min.)11/19/10

Homelessness awareness month--November--finds Diane heading up to Adrian, MI (not in Tillie!) to speak at their conference. This community does some impressive work with homeless families, teens and adults. Their plans are impressive too! 10/28/10
Northern Illinois University's Northern Star newspaper interviewed Laura and me about on the edge. He asked some interesting questions. 10/27/10
Dekalb, IL has a model shelter, Hope Haven, but they need to expand. Hitting the zoning speed bump, they addressed the City Council. Diane was able to lend support at the hearing. This story touches on the saga. 10/25/10
Diane teamed up with Northern Illinois University media professor Laura Vazquez to film and produce on the edge, a powerful documentary on homelessness. The NIU story about this effort covers all the bases! 10/14/10
The Naperville City Council responded to the HEAR US request to declare 10/29/10 "Mary Lou Cowlishaw Day" because of her tremendous contributions to the educational rights of homeless children nationwide. HEAR US and North Central College will co-sponsor MLC tribute and on the edge screening. 10/5/10
Deep in the red-soil south in NW Georgia, Tillie and Diane are at Kennesaw State University to raise awareness about homelessness. The HEAR US CEO and her home/office spent the night on campus. 10/5/10
HEAR US collaborated with the renowned radio interview show, "The Story," to give Melissa A. the opportunity to talk about her homelessness in affluent DuPage County IL. Melissa and her 5 young children are homeless, staying for the time being in a motel. Listen to this inspiring, enlightening 20-minute interview. 10/4/10
Four years after the concept of "on the edge" was proposed by Professor Laura Vazquez of Northern Illinois University, this NAEHCY BEAM article describes the process for the almost finished documentary film that lets women tell of their experiences of homelessness. 8/10
North Carolina ranks low when it comes to preventing families from becoming homeless. Diane speaks to the need for continued and increasing funding to help schools assist homeless students. McClatchy News, 8/8/10
Hear Diane talk about her HEAR US adventures on "The Story," a public radio feature, 7/28/10.
Front page and several pages of pix and story about "on the edge" in the Naperville Sun, 4/26/10.
Great story on the "on the edge" screening HEAR US held in Aurora, IL. Sometimes you can tell when the reporter paid attention and gets it. This reporter falls into that category! Courier News, 4/25/10
Family and teen homelessness often gets little attention in the media or in government. HEAR US founder Diane Nilan offers a challenge to her former home community, Aurora, IL, inviting them to learn more about this issue in her op-ed column in the Beacon News, 4/19/10.
Besides loons and mosquitoes, the fine state of Maine exports some brilliant observations, e.g. this column by a longtime political figure and journalist, now running a homeless shelter. Bangor Daily News, 4/6/10
The word spreads, from the Fox-Chicago story about HEAR US back in Nov., to this Woman's History post. Partizane, 3/24/10
The Homelessness Resource Center newsletter did a Q & A with Diane. HRC, 3/23/10
My visit to Austin, TX was worthwhile! Had a great screening of the rough cut of our documetary, It's All About the Children, which got some radio coverage on KUT, 2/4/10
An amazing story about HEAR US by Mark Saxenmeyer of FOX Chicago has been making its rounds, and even was reposted, with some added comments, on The Huffington Post. 11/23/09
A blustery, nor'easter kind of day set the mood in Boston where Diane joined MA advocates urging homelessness services budgets not be slashed. NECN reported on the bleak story. 10/16/09
The reporter from The Herald in Mercer County PA got the story right. Diane's recent visit at Thiel College in Greenville provided an excellent opportunity to share the work of HEAR US and to raise awareness of homeless families and youth. 10/6/09
In the Naperville Sun, the reporter describes the invisible homelessness that plagues former residents of this posh area. HEAR US' Diane Nilan provided expertise for this dismaying story. 9/13/09
Diane visited Franklin, IN and addressed audiences about unmet needs of homeless youth in that community. The Daily Journal reported on this event. 9/10/09
The Aurora Beacon News ran an op-ed column by Diane to call attention to school enrollment issues that might be excluding homeless students. 8/22/09
Daily Herald Diane and 3 other awesome presenters addressed the challenging issue of what needs to happen post-economic meltdown to an audience in Elgin. 7/12/09
DiscGolfer, the new PDGA member magazine, has a story about HEARUS! Disc Us!, the HEAR US project to teach homeless kids how to play this favorite sport of Diane and Sr. Helen. Spring 09
Aurora Beacon News reports that although some progress is being made identifying and assisting homeless students, more work is needed. HEAR US is concerned about 400 kids kicked out of West Aurora's district allegedly for being non-residents. 5/3/09
NCTV17 DuPage County, home to HEAR US, is one of the wealthiest counties in the nation, with a sizable population of homeless children and youth. HEAR US joined other DuPage organizations calling attention to this issue. 4/19/09
Las Cruces Sun A return visit (2/23-3/8) to Las Cruces gives Diane a chance to raise awareness about homeless families with even more LC residents thanks to efforts from the LC school's Project Link.
Georgia Public Broadcast Listen as a mom talks about how incarceration affects her children 1/7/09
NOTE, the entire 1/2 hr. show gets downloaded. Slide the bar to the middle--that's where the HEAR US story is.
Atlanta Journal Constitution Nilan Films in Jail 1/5/09
Photo Gallery from AJC coverage
Chicago TribLocal HEAR US Goes to Jail 12/17/08
DeKalb Daily Chronicle HEAR US and NIU Student 12/10/08
Skidmore News Diane's Skidmore College Presentation 12/5/08
Northern Today NIU student's work on HEAR US' REACH 11/24/08
Las Cruces (NM) Bulletin What it means: No family shelter 10/24/08
SUNY Podcast of Diane's Presentation 10/21/08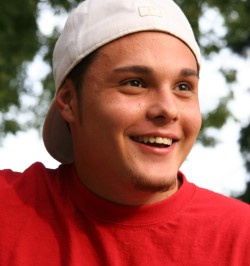 Lost Charlie is found 8/24/2008
Diane's current picture of Charles is a great follow-up of Pat Van Doren's original Charlie pix.

HEAR US Benefit The goodness behind the Bene-Feast 8/14/2008
DailyGood Diane's essay about a homeless man 8/8/08
Where are they? 15 years ago, family photos 7/20/2008
Binghamton, NY visit 5/2/08
Florida Mom's Pursuit of Happiness 4/01/2008

Guideposts A Look at HEAR US 11/07 (from Positive Thinking Magazine)

Christian Science Monitor The best story written about HEAR US 5/24/07

Woman documenting plight of homeless children

Crusader tackles 'larger problem than most people realize

Lemonade Stand Aids HEAR US