Award-winning film, as seen on PBS!

Think you know homelessness? Think again...

Seven women courageously step out of America's shadow of shame, homelessness, lugging family troubles and deep-seated anxiety as they grapple to avoid returning to their nomadic existence. Their brutal honesty reveals not only the turmoil and tragedies that led to their homelessness but also their vulnerability of returning to a life of invisible struggle to survive. Their stories give new meaning to life "on the edge."



Each woman's story is unique but there are recurring themes of trauma and abuse. They speak of the friends who tried to help them and their own desire to help others like themselves. Each woman has fought to regain her independence with a fragile support network, based on society's ambiguous standards.

They grasp tenuously to the edge of stability hoping for future lives in their own homes, or at least to avoid the return to homelessness.

on the edge: Family Homelessness
in America
is now available to watch FREE on YouTube.
on the edge NEWS,

AWARDS

on the edge won the Big Muddy Film Festival, 2/24/12
John Michaels Memorial Film Award
"The award is given to the best work entered in the Big Muddy Film Festival that promotes human rights, peace and justice topics or environmental issues."

In April 2011, Laura Vazquez was awarded the prestigious

BEA
(Broadcast Education Association)
1st Place
Faculty Documentary

AWESOME REVIEW!
Booklist Online Reviews, Published January 2012

"After you've been homeless, you will do whatever is in your power to keep from being homeless again,"

remarks one of the down-but-not-quite-out subjects in this heartbreaking documentary, which puts a human face on homelessness.

In candid interviews, seven women share their tales of homelessness, telling about circumstances that led to their rootless existence and their attempts to find sleeping arrangements with friends or in cheap hotels and shelters, all the while trying to get themselves back on their feet.

Experts address legal, social, and childdevelopment issues and present staggering statistics (a single mother of two working a minimum-wage job would have to work 120 hours a week just to afford an apartment). The film is straightforward rather than sensationalistic, making the women's stories even more powerful. Use this in community groups and classrooms to spur discussions about this widespread problem. (Discussion Guide)

— Donald Liebenson, Reviewer for the American Library Association
more about...
on the edge, a feature-length (58 min.) documentary film offering an intense look at realities of invisible homeless families in America, filmed and produced by Nomad Productions--Diane Nilan and Laura Vazquez. Screenings may be arranged by contacting This email address is being protected from spambots. You need JavaScript enabled to view it..
Far beyond urban street corners where often-scorned and neglected homeless men and women shuffle, invisible families and teens struggle to survive homelessness and destitution. They stay in a variety of locales, in communities of all sizes and economic compositions. For numerous reasons, this sub-population of homeless denizens have been mostly ignored, and now estimates of their numbers exceeds 2 million, with some experts believing that invisible homeless families could number close to 10 million.
on the edge, featuring 7 women who lost their housing for a variety of reasons, gives a painfully intimate look at the entwined connection between poverty, housing issues, social problems, addictions, family crises, and gender-related injustices. These compelling and forthcoming experts on homelessness shine a bright, unmitigated light on systemic and personal causes of their struggles, illuminating what has been a dark corner of social inaction and concern.

ABOUT THE FILMMAKERS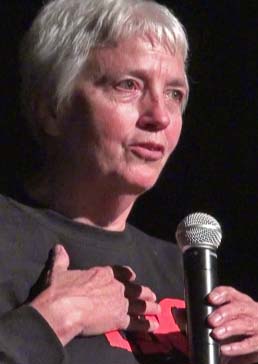 Diane Nilan, Founder/President, HEAR US Inc.
Laura Vazquez, Professor, Northern Illinois University, Department of Communication, documentary filmmaker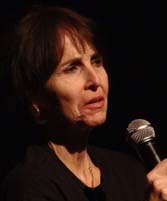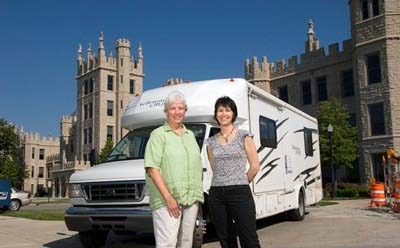 Since 2006, Nilan (left) and Vazquez have completed several short films on the issue of homeless children, youth and families. Their documentary series includes My Own Four Walls, which won the 2007 NAECHY Outstanding Media Award, as well as a K-12 educator awareness series for teachers and administrators. They produced REACH: Connect Children to Education, a short training video to remove barriers to education for homeless children of incarcerated parents, and several short advocacy videos.
Nilan has worked with homeless families, intensely advocating on local, state and national levels for solutions to homelessness for over 3 decades She is in her 16th year traveling backroads of the lower 48 states chronicling homelessness as it affects families and teens. (Diane's biography)
Vazquez, an accomplished documentary filmmaker, devoted her sabbatical in the spring of 2008 (and much more) to work with Nilan on this unique film project. Her commitment to this ignored issue and her longstanding commitment to social justice contributes not only vast technical expertise, but the passion that augments this extraordinary effort.