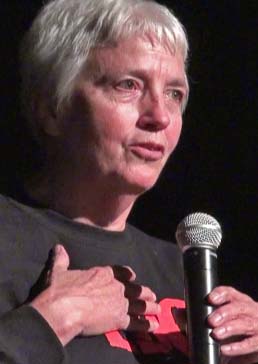 About Diane Nilan
HEAR US Founder and President
Watch Diane's award acceptance speech (YouTube, 4/29/12)
Barbara E. James, Project Director, Texas Homeless Education Office shared:

I have known Ms. Nilan for about 15 years and enthusiastically endorse her presence in your community. Diane was keynote speaker at the Texas Homeless Network conference and was very well received by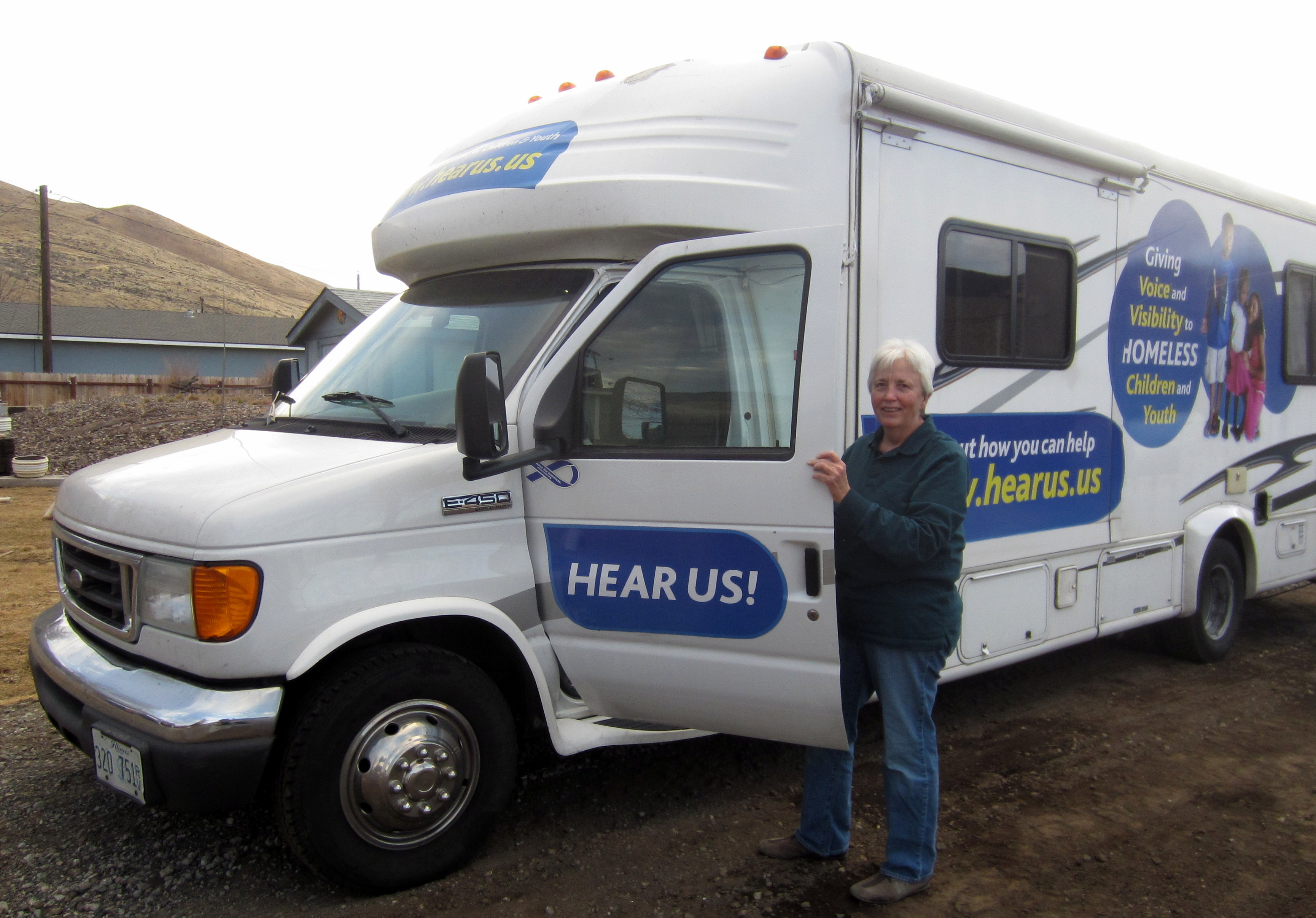 attendees.
Her list of successes is endless and her passion for homeless kids is unrivaled.
She has made a personal commitment to service that most of us can only dream about…I would encourage you to work with neighboring districts as well—her message needs to be spread as far and wide as possible!
Diane's Previous Speaking Engagements Include:
National
NAEHCY
Horizons for Homeless Children
State
NY State Dept. of Ed/TEACHS, liaison training
PA St. Dept. of Ed/McKinney-Vento, liaison, providers
TX Homeless Network, providers, liaisons, community
OH St. Dept. of Ed/McK-V, liaisons
MI State M-V Liaisons
GA Alliance to End Homelessness, state conference
MS State M-V Liaisons
NH Statewide shelter staff and educa-
Columbia University, NY, School of Social Work
Northern IL University, Psychology Dept.
North Central College, Naperville, IL
Univ. of TX, El Paso, Education Dept.
Univ. of TX, Austin, School of Social Work
Loyola School of Law, New Orleans
Ohio State University, Mansfield campus
SUNY, Fredonia, community/Education Dept.
New Mexico St. Univ., community, Education Dept.
University of St. Francis, IL, Education Dept.
Skidmore College, NY, community
Thiel College, PA, community
Wabounsee Community Col., Aurora, IL
Blackhawk College, IL, community
GA Southern University, community/Education D.
Kennesaw State University, GA, community
Dickinson College, Carlisle, PA
Fordham University, NYC, Inst. of Women & Girls
Washington Training Center, DC
Oberlin College,Oberlin, OH
Pomona College, Claremont, CA
Aurora University, Aurora, IL SW classes

Other interesting places of note...

DC, House Financial Sub-committee, testimony
Cook County (IL) Jail, Women's Division
S New Mexico Prison, Las Cruces
The Women's Treatment Center, Chicago
Flagstaff Juvenile Detention, Flagstaff, AZ
2012-2013 HEAR US Calendar


Questions about Diane's schedule and to arrange a visit,
contact her at This e-mail address is being protected from spambots. You need JavaScript enabled to view it or 630/225-5012

Month
Event
June 2013
No events...Diane will be gone June 1-24 to Tanzania.
Limited phone/email contact.
May 2013

4, St. Timothy Lutheran, Naperville, Benefit Concert, 7pm
10, DuPage Peace/Justice Coalition (DuPage UU), Naperville, 7pm

April 2013

3, NYC, Columbia University MSW class

8, Ohio State University, Mansfield

9, Mansfield, OH, McKinney-Vento dinner

12, Benedictine University, Lisle, IL Poverty/hunger seminar

March 2013
26-28, Marietta, GA, GA Alliance State Conference
February 2013
LaMarche-Nilan tour continues (until Feb. 23)
January 2013

21, Kick-off, Babes of Wrath Southwest tour, Pat LaMarche and Diane

December 2012
3-5, PA Homes Within Reach conference, Harrisburg
November 2012
October 2012
27-30, Albuquerque NM, NAEHCY Annual Conference
September 2012

18, Lisle IL, 5:30, Villa St. Benedict Retirement Community, Encore Presentation

24-25, Houston TX, CITGO, TBD

26-28, Houston TX, Texas Homeless Network
Conference

August 2012

7, DeKalb IL, 5:00pm, HEAR US! Disc Us! with Hope Haven

15, Downers Grove IL, 5:30pm
HEAR US! Disc Us! with Bridge Communities

July 2012
Return to IL
2011 - 2012 HEAR US CALENDAR
contact Diane for scheduling/event info,
This e-mail address is being protected from spambots. You need JavaScript enabled to view it , 630/225-5012
JUNE 2012


6, Touro Law Center, Central Islip, NY, 7 pm, Littlest Nomads film screening
PDF FLIER

MAY

10, North Central College, Meiley-Swallow Hall, Naperville, IL, 7 pm, Littlest Nomads film premiere PDF FLIER


30-31, Boston, MA - Horizons for Homeless Children National conference

APRIL

11, Columbia University, NYC

18, Aurora University, Aurora, IL

20-21, St. Charles, IL Garage Sale

27, Bridge Communities, Glen Ellyn, IL Awards Luncheon

MARCH

1, GA Alliance to End Homelessness

23-25, Trio training, Orlando

FEBRUARY

3, Pomona College, Claremont, CA

8, Reno, NV, Clarke County Schools

27-28, University N Florida, Jacksonville

29 - 3/1, GA Alliance to End Homelessness, Screening, on the edge, It's About the Children photo exhibit, Marietta, GA

JANUARY

19-20, Institute of Children, Poverty and Homelessness, NYC, Conference

25, Glendale, AZ

DECEMBER

14, CITGO Presentation, Naperville

15, Washington, DC Congressional Hearing

4, St. Timothy Lutheran, Naperville

5, Rosary HS, Aurora, IL, Human Rights presentation, 10:00 -students, 7pm Public FLIER

NOVEMBER

2-3, Oberlin College, OH FLIER

5-9, NAEHCY Conference, Pittsburgh, PA

10, Penn State, Shenango, Auditorium, 11:00 am

15, Northern IL University, DeKalb, Screening, "on the edge"

17, Hope Haven Open House, DeKalb

OCTOBER

3, Washington Training Center, DC

5, Homelessness Forum, Dickinson College, Carlisle, PA

10-12, Kennesaw State Univ. and GA Alliance to End Homelessness, Homeless Awareness Week

13-15, TX Homeless Network, State Conference, Dallas, TX

23, GA School Social Workers Conference

SEPTEMBER

19, 8:00, Ogden 6 Theaters, Naperville Independent Film Festival, Naperville, IL, $5 + free gifts! FLIER (PDF)

23-25, Sycamore, IL Film Festival

28, Rochester, NY Homelessness Symposium

AUGUST

Illinois

JULY 2011

14-15, NAEH Conference, Washington, DC

Illinois