What We Do -
What We Do
Page 1 of 2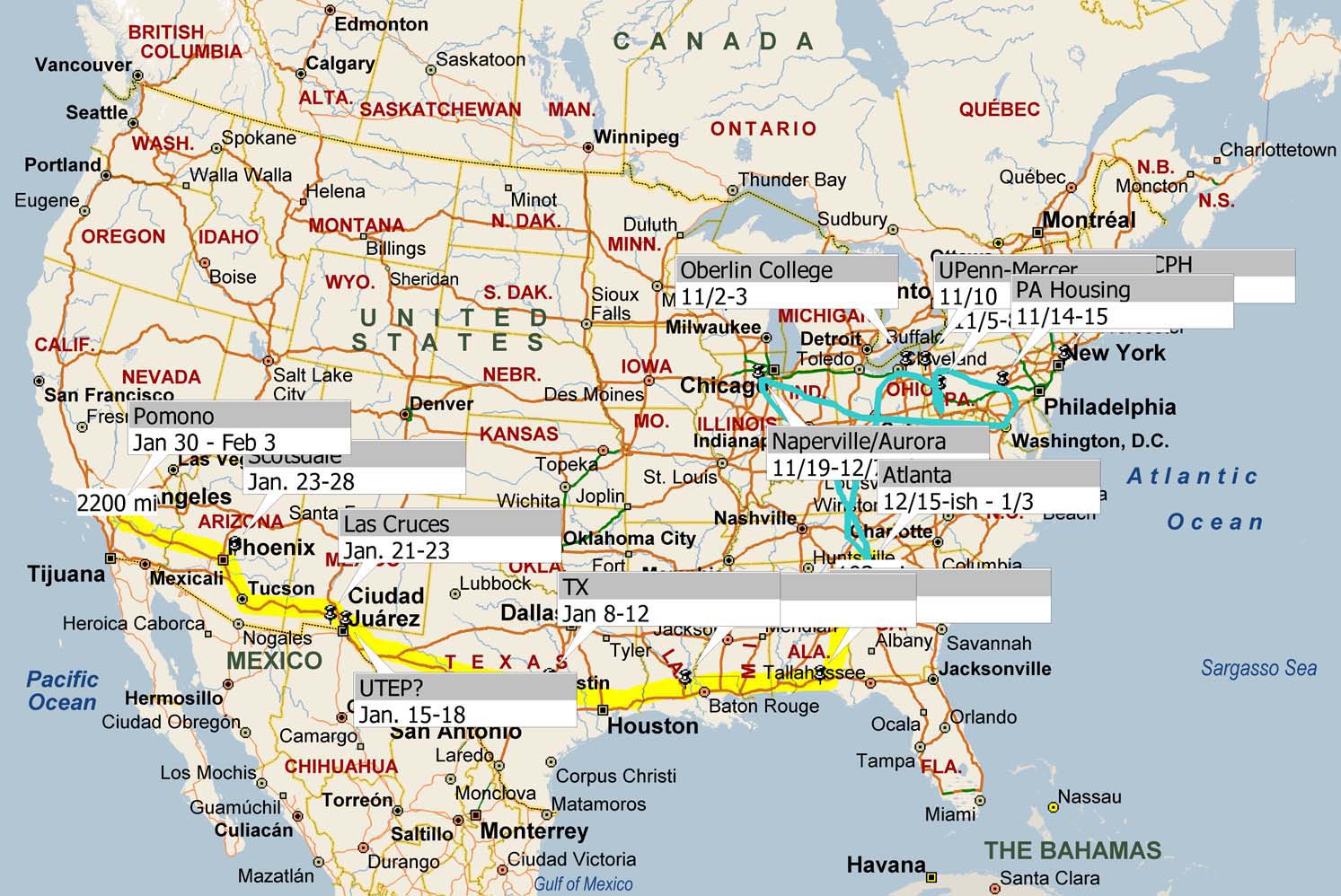 JOURNEY 7~ SEPTEMBER 2011-JULY 2012

CHECK THIS LINK FOR THE CALENDAR
JULY-AUGUST 2012 Back in IL preparing for a mid-September departure. This is the time to do those pesky admin tasks--making sure our 990 gets filed, reconnecting with the HEAR US board, develop new focuses for the next trip, solicit speaking opportunities, and get word out about the new products HEAR US offers. That...and lots more.
JUNE 2012 Year 7 wound down with a trip to Long Island for a premiere screening of Littlest Nomads. Her proximity to Columbia University made that a logical stop. Diane will spend time working in the cool mountains of western North Carolina before heading back to IL in mid-July.
MAY 2012 Diane and the HEAR US board returned to Naperville's North Central College for the national premiere screening of Littlest Nomads.The dream of having on the edge: Family Homelessness in America on PBS came true! Mid-May Diane shoved off eastward to Boston for the Horizons for Homeless Children conference, for the introduction of Littlest Nomads. HEAR US board member Helen Jilek accompanied her.
APRIL 2012 Heading northward, a stop to visit a family she knew from her days as shelter director at Hesed House in Aurora, IL, then into mid-Atlantic states, visiting a shelter then lecturing at Columbia University School of Social Work before heading back to IL to receive her award from Bridge Communities. Diane and Laura Vazquez will spend a chunk of time in the Northern IL University film lab finishing their latest projects.
MARCH 2012 Lickety-split, Diane went from west coast to east coast. She was shocked to receive the Community Builder award at the GA Alliance to End Homelessness statewide conference. She spent a week in the parking lot of a motel on the outskirts of Disney World interviewing families now homeless, barely hanging onto the often crowded room in the motel. A couple nights gators were growling at her door--she growled back! Continuing south to resort communities, she interviewed more families who had stayed with others and/or in motels to avoid the streets.
FEB. 2012 Now for the last part of this western swing, presented to a group of educators in Reno, NV, then back to Phoenix to screen "on the edge" with parents at the UMOM shelter and film interviews for the new HELP HOMELESS KIDS NOW campaign. Heading eastward all the way to the Atlantic Ocean, Jacksonville, where Diane will reunite with an "old" friend who used to run a shelter in Rockford, IL.
JAN. 2012 Diane set out from Mom's outside Atlanta, heading south, luckily with no snow! Stopped to visit Melissa (OTE "star") and her family in the FL Panhandle, and then headed west to NM on her way to AZ, with a flight to NYC sandwiched between.
DEC. 2011 A chilly Illinois visit--but a busy one--with presentations to the Rosary High School and the Aurora, IL and Naperville's St. Timothy Lutheran Church community, and the Fueling Good award event. Diane made tracks to DC via Carlisle, PA (where she picked up 2 homeless families). The DC homeless children's hearing was powerful, augmented by tons of media coverage, including 2 CNN spots!
NOV. 2011 From GA to southern IN to commemorate the Haven House 15th Anniversary with "old" friend Barbara Anderson, up to the hotbed of social justice, Oberlin College, to the always-exciting NAEHCY conference in Pittsburgh and back to IL, Diane put some serious miles on Tillie, her RV. Good news came from CITGO! HEAR US won $5000 in gas cards from the "Fueling Good" contest.
OCT. 2011 - Diane had a quick but productive visit to Washington DC, then filmed an inspiring, enlightening Homelessness Forum at Dickinson College in Carlisle, PA, then scooted south to the Atlanta area in time for the Kennesaw State University Homelessness Awareness Week. GA School Social Workers invited Diane to their annual conference in the north GA mountains.
SEPT. 2011 - With bold new signage on Tillie, following 2 successful film festivals, Naperville and Sycamore, Diane shoved off for Rochester, NY, for their western NY homeless conference. She met many "old" friends from her previous visit, plus plenty of new HEAR US friends.
JOURNEY 6~ SEPTEMBER 2010-JULY 2011
JUNE 2011 - After a 10-day Illinois stop to regroup, Diane will head eastward to New York (Columbia University and Long Island), DC for the Horizons conference and to the North Carolina Smoky Mountains.
MAY 2011 - Diane made good use of her time in the scenic Northwest. She filmed toddlers for the upcoming project "Littlest Nomads," and  captured the plight and promise of these young children. Organizers of "Meaningful Movies" in Seattle invited her to screen on the edge and participate in a panel.

APRIL 2011 - From one end of the country to another...Diane left DC, dropped Pat LaMarche off in Carlisle, PA; popped in on her friends in Lisle and DeKalb, IL; scooted out to Alamosa, CO for a McKinney-Vento training and on the edge screening; raced to Las Vegas for the BEA Film Festival awards ceremony with on the edge director Laura Vazquez; and landed at the Oregon Coalition on Housing and Homelessness. Phew!

MARCH 2011 - This sure was a busy month! Starting with her friends at the GA Alliance to End Homelessness, she screened on the edge, and shared My Own Four Walls. Both films were well received! She screened on the edge with residents at Park Springs Retirement Community. The oldest audience member, 95, astutely made observations that poverty and hard times today are harder than in the Depression. Diane left GA, heading up to a slew of presentations and events in NYC (Fordham University, Columbia University), CT (Track180.com), and DC (the House Caucus on Homelessness, screened on the edge for HUD Secretary Donovan, USICH Director Poppe and congresspersons, their staff and other persons concerned about this issue.
FEBRUARY 2011 - Oh wow! Southern Discomfort ROCKED! Pat LaMarche proved to be a formidable travel/advocate partner. Crowds loved the message of compassion epidemic that these women brought! Pat returned to Safe Harbour (literally, her shelter in Carlisle, PA) and Diane continued her journey, flying to IL to do a fund-raiser for Hope Haven in DeKalb, screening on the edge at a women's treatment program just blocks from Oprah's Harpo Studio, and flying back to GA and plunging into a homelessness crisis in Calhoun, GA. She responded to a potential homelessness crisis in Milton, FL by doing an on the edge benefit and returned to prep for the next big round of travel. on the edge was selected as a winner of the BEA Film Festival, one of 900+ entries!

JANUARY 2011 - After a hectic holiday season, Tillie is being prepped for the Southern (Dis)Comfort tour of 6 southeastern states. Diane will be joined by Pat LaMarche, now running a shelter in PA, and Pat's colleague, Mary Ann Parks, who will remain in PA but will be cyber-connected to keep the duo visible to audiences everywhere. The overly-ambitious trip ended up being 8 states, and some destinations canceled events due to a bizarre snow storm.
DECEMBER 2010 - Diane joined up with the Campaign to End Child Homelessness for their FL listening tours. She criss-crossed the freezy Sunshine State and met lots of folks familiar with the work of HEAR US. She managed to hold a couple screenings of on the edge for homeless persons staying in shelters.

NOVEMBER 2010 - Scooting down to Houston, TX for the national on the edge premiere at the NAEHCY conference. Then off to Mississippi for their state's homeless ed conference, up to Adrian, MI for their conference, over to DeKalb, IL for another on the edge screening at NIU, and back to MS and the South.

SEPTEMBER - OCTOBER 2010 - Deep in the heart of the South, Diane and Tillie encountered lots of supporters, from senior residents at Park Springs Retirement Community to Seniors (and others) at Kennesaw State University. She made her way northward back to Columbia University's School of Social Work, up to beautiful Glens Falls, NY to address supporters of WAIT HOUSE, a homeless youth program, and zipped back to Illinois to prepare for and pull off a successful on the edge screening and tribute to the legacy of Mary Lou Cowlishaw, the mother of homeless educational rights in IL and the U.S.
AUGUST 2010 - Hung out in the western suburbs, working on final touches of on the edge, preparing for upcoming premiere screenings and the next round of travel. Doesn't sound like much, but it was a busy time!

JOURNEY 5~ OCTOBER 2009-JULY 2010.
JULY 2010 - From NC to reconnect with an "old" friend from high school in VA, then to DC for the largest national conference on homelessness, another occasion to meet friends from all over, to NYC's Columbia University School of Social Work for presentations to the graduate SW students, and back to Carlisle to finish the EPIC Journey plans. Finally, after another long and successful road trip, Diane pointed Tillie westward and landed back in IL. The odometer turned 100,000 miles as Diane crossed IN. Wow! 5 years, 48 states, and 100,000 miles!
JUNE 2010- After a short stay in Diane's stomping ground of Illinois, she pointed Tillie eastward and landed at the Horizons for Homeless Children conference in Worchester, MA, reconnecting with lots of friends from across the nation who love HEAR US stuff. From there, a quick stop in Carlisle, PA where she and a colleague began making plans for the EPIC journey, then to park Tillie high in the NC mountains at her sister and brother-in-law's backyard so they could celebrate her mom's 90th birthday. Not much traveling, but lots of work got accomplished! And it was cool, too!
MAY 2010 - No rest, as Diane headed south for 3 events--Macon, MS, Sheridan, AR, and Baton Rouge, LA. Along the way Tillie got, um, wounded--the right ear/mirror got whacked off crossing the Ohio on a teensy little bridge. Outside Vicksburg, MS, Tillie just plum stopped, on a four-lane highway. Fuel filter clogged, needing a tow and quick repair. She continued on to Baton Rouge, LA, where she screened "on the edge" at the LAEHCY conference. Back to IL to restock HEAR US goodies.

APRIL 2010 - Up to Carlisle, PA for on the edge screening and then to Columbia University, a return visit to the School of Social Work.On the way back to IL, will stop to screen on the edge and do a training of educators in Grove City, PA and shared MOFW with the 1st Presbyterian Church of Greenville, PA before heading to Aurora, IL for a joint event with Mutual Ground, the local DV shelter, to screen on the edge.
MARCH 2010 - The last of the 7 on the edge women to view their film, Melissa, got to see it shortly before she learned she was losing her job, pushing her and her family closer to the edge of homelessness.
Headed up to the Atlanta area and joined the GA Alliance to end Homelessness at their statewide conference. From there to NW GA, the Calhoun area, to present to social workers and community leaders concerned about lack of resources for the growing number of homeless families.
In NC for a screening at Duke's Center on Documentary Studies, and into the DC area to screen on the edge with the McKinney-Vento state coordinators.
Heading back to IL for the George Winston Benefit concert and back again  (by train!).
FEBRUARY 2010 -What a better state to be in at Super Bowl victory time and Mardi Gras time than Louisiana? Sure beats AR, where snow postponed my presentation. Will head to FL and GA after leaving this spicy state. Being in LA as the Saints won the Super Bowl, how exciting! Shared "on the edge" with Antoinette, Tonya and Angela, 3 of the courageous women in our new documentary. Met with the Mayor of Starkville, MS about the deathly lack of resources for displaced families.
JANUARY 2010 - No champagne or fireworks, just getting admin work done while the rest of the world took their well-earned break. The Phoenix area has great weather at this time of year! And my growing list of friends in this community have given me an opportunity to hold an advance screening of our new documentary, "It's All About the Children" with some key activists. Also did private screenings with Nancy and Julianna, whose poignant stories are featured in our film.

Headed to Las Cruces, where I screened "Children" with Beatrice whose story is also included; to El Paso (UTEP) screening and presenting to bilingual education majors, then on across TX for presentations and screenings with Barbara James and her Texas Homeless Network cohorts. They committed to seeking "a paradigm shift" in the way homelessness is addressed as a result of seeing "Children." Oh yeah!!

DECEMBER 09 - No boredom this month! Spent a few days and nights in CA county fairground parking lots, er, RV parks. They are flat, with electric, water and dump/sewer, but sure lack any amenities, and are not cheap! That's why I appreciate friends, old and new, that offer a spot to park and plug in. Saves money! Sacramento has hoards of homeless individuals all over. How very sad, because, in addition to myriad problems of not having a place to live, the weather can get downright nasty. Met some amazing homeless liaison/activists that get the job done for the kids. And interviewed 2 incredible teens who shared what it is like to struggle to survive teen years without a home.
Traveled through enough of CA's agricultural land to have a deeper appreciation for all who put their hands on the fruits and veggies we eat and drink. How do they do it when it gets so hot? Lucked out and missed a horrible storm that would have been worse had I followed my initial "plan" of going to Reno. We'd still be digging out of a snowbank.
Crazy holidays, and nary a decoration in my hallowed tin can. 85k miles, 48 states, and still rolling!
NOVEMBER 09 - This month has been packed with activities! First was trip preparation and final in-person contributions to Laura on our (in production) feature-length documentary, now called "Best Kept Secrets." Then it was off to the RESOLVE conference in Chicago, a gathering of college students from across the nation RESOLVEd to end hunger and homelessness, an incredible gathering! Was happy for help from HEAR US board members Helen Jilek, OSB, and Marilyn McGowan.
Then I aimed Tillie west, stopping for a first-time viewing of "Best Kept Secrets" in its entirety. I literally cried as I watched this incredible story of how homelessness affected 7 women and their families. It was good to spend a night with Liz Lipford in Freeport. Liz is an "old" friend, formerly homeless mom of 6 who ended up not only working with me at Hesed/PADS but also inspiring me. From there to Cornell College in Mt. Vernon, IA, hosted by STEP, a student activist organization.
Then for a long haul, Denver, CO, for the Annual Conference of the National Association for the Education of Homeless Children and Youth (www.naehcy.org). I love this conference, and Denver is a beautiful city in an incredible state, but mid-November tested the fates, and Tillie and I lost. FROZE and were buried in snow! But with lots to warm my heart at the conference and the help of board members Pat Van Doren and Marilyn McGowan who flew out to help (we needed it, we were busy!!), we survived and thrived.
Incredibly, I've been literally coast-to-coast in Tillie this past month--from the Cape Cod shoreline to California's coast. We were invited to screen My Own Four Walls at the Pasa Robles Film Festival. I figured Tillie needed a spa treatment after the snowstorm, so I splurged--a good thing because the PRFF arranged for me to be parked at a swanky RV resort with expensive, classy, clean RVs occupying most sites. Laura Vazquez and her spouse, Jeff, came out for this event.
Next stop will be Sacramento where I'll reconnect with old friends, meet new ones, and get some Learning Curve Express interviews.
OCTOBER 09 - I pried myself (and Tillie, my RV-home/office) away from the security of my summer base at Sacred Heart Monastery in Lisle, knowing that much is to be done to generate the essential compassion epidemic needed to address the abysmal conditions facing homeless families and youth today.
My maiden voyage is a grueling one, with appearances in Mansfield, OH, Greenville, PA, NYC, Long Island, and Boston. No time to do much but admire the foliage as I scooted through multiple states. Fortunately, back in DeKalb, at Northern IL University, efforts to convert my first LCE interviews were underway. Check them out on the Learning Curve Express page.
In Boston, a group of activists will take a stand to urge no further cuts to housing budgets that keep families from being homeless. I'll be there with them. We need to reverse this tragic trend.