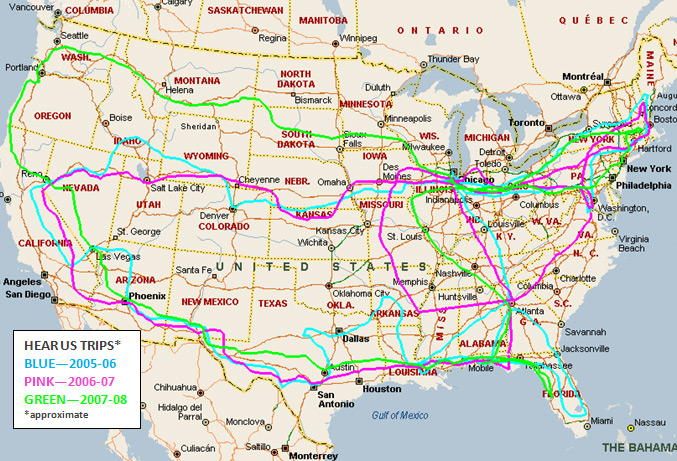 INTRODUCTION

HEAR US founder Diane Nilan sold her house in October 2005, bought an RV, and in November began a solo nationwide odyssey to give homeless kids an opportunity to be seen and heard. She plans to chronicle the incredible journey in a book, her second, but first, to arrange to assemble the interviews into video for national distribution.
HEAR US Project Information (as of '05-06):
20,000 miles traveled in 8 months, crossing 34 states
Over 70 children, youth and a handful of parents interviewed. All are currently or formerly homeless. They agreed to be interviewed on film, and many are willing to do follow-up interviews with media.
50 hours of film shot
The film department at Northern Illinois University (Dr. Laura Vazquez) is now compiling the footage into the first set of projects, 3 short (6-8 minutes) videos focusing on elementary, middle and high school students. These videos will be distributed nationally, initially to schools, to raise awareness of and sensitivity to homeless students. A broader distribution will be developed, including some film guides to educate viewers of all ages.
Journey 1 November 2005-June 2006
NOV. 05 - Diane left on her nationwide journey, a newbie RV full-timer. She sold her home, car, and most of her possessions to follow her dream to raise awareness of and sensitivity to homelessness.
DEC. 05 - Her first stop (after the family Thanksgiving celebration) was Louisiana, where she interviewed people who lost everything in Hurricane Katrina. Thanks to the Stormy Weather fundraiser held in Aurora, IL, Diane was able to pass along donations to assist several families and to help homeless kids. She spent time in Pearlington, MS, along the hurricane-ravaged Gulf Coast, witnessing devastation and restoration.
JAN. 06 - Ft. Lauderdale, FL, Diane visited her old (and we do mean old!) high school, Cardinal Gibbons. She spoke to senior religion classes about her project and book. She also addressed a meeting of the active Broward County Continuum of Care. Her first videotape session was a family in Milton, FL, homeless following Hurricane Ivan, who feared loss of their FEMA trailer because the magical 18-month FEMA deadline was looming.
Diane also toured the worst-hit part of New Orleans with friend and New Orleans Times-Picayune reporter Michelle Krupa. Other Louisiana stops (Clinton, Lafayette and Shreveport) connected her with some incredible people who, in their role as McKinney-Vento Homeless Education liaisons, manage to work miracles with homeless kids. These contacts provided Diane with many families to interview in the fine state of Louisiana.
FEB. 06 - A short but busy month...Arkansas liaisons showed her what rural and small town homelessness looked like in Hope, Mt. Vernon-Enola, Russellville, Ft. Smith and Ashdown.
Texas has plenty of homelessness as found in and around Abilene, Belton, and El Paso. A chance encounter with a community activist in Mineral Wells yielded a great news story.
New Mexico provided much to film in Las Cruces where homelessness abounds, but significant efforts have been made to ease it. The Las Cruces school district featured Diane on their website and arranged for the local paper to cover her visit.
MARCH 06 - Continuing her southwest swing, Diane stopped in Phoenix and Flagstaff, Arizona to speak with hidden homeless families--those doubled up with others or staying in motels. In Nevada, she gambled on finding homeless families in Las Vegas and Reno, sadly finding scores of them, mostly staying in motels.
APRIL 06 - Colorado's Rocky Mountains provided the backdrop for an interview in Ft. Collins and on to rural Iowa to film teens in tiny Morning Sun and to hear from a student in Cedar Rapids. April also found Diane back in Illinois, once to receive the esteemed Kane County Health Department Hidden Hero award, and again for a week of presentations, book gigs and reconnecting with friends before heading eastward. Impressive newspaper coverage in the Aurora Beacon News and stories in the Daily Herald assured well-attended events, including a forum with Congresswoman Judy Biggert.
MAY 06 - Heading eastward, Diane's first stop was Mansfield, Ohio, where she visited with her former teacher, Sr. Paula Bingert, osf, who tried teaching Diane freshman English many years ago. Sr. Paula connected Diane with the Mansfield school district's McKinney-Vento liaison who invited Diane to film and to present to a group of high school teachers. She also arranged a newspaper story on Diane's visit. Pennsylvania provided many opportunities to explore and chronicle homelessness: Erie, Sharon, Harrisburg, Lancaster and Allentown offered their help linking Diane with willing subjects. The Lancaster News Journal also reported on HEAR US.
JUNE 06 - Finished this round of visits with stops in the New England states including her home state, Connecticut, where rural (Killingly) and small town (Danbury) homelessness seems to be growing. Springfield, Massachusetts, a midsized town, reports surging homelessness, especially among families.
JULY 06 - Now to put all the video together. Thanks to the generosity and hospitality of the Benedictine Sisters in Lisle, IL, Diane has a place to work on this project. She's given, and will give more, presentations to area service clubs, seniors in the Villa St. Benedict retirement community, and the Benedictine Sisters.
AUG. 06 - Good news! The video production challenge became much easier with the newly-formed partnership of Northern Illinois University media production professor, Dr. Laura Vazquez. Laura and 6 students recently spent 6 weeks in Hollywood working on set with Anthony Hopkins on his film, Slipstream. One of those students, Becca Berry, is working on the HEAR US video.
Journey 2, November 2006-June 2007

November 8, 2006 -After voting, meeting with Dr. Vazquez and staff from the Northern Illinois University Specials Projects office (to develop fundraising strategy), Diane headed to Dubuque, Iowa, to address the audience at the city's Hunger and Homelessness event, sponsored by Clarke College's Campus Ministry team.
November 11-15 -Heading directly south, Diane parked in Little Rock for the annual conference of the National Association for the Education of Homeless Children and Youth, where My Own Four Walls had its pre-screening to a capacity crowd. The response was exciting!
December- Following the Thanksgiving holidays, Diane headed for northwest Florida to begin filming the documentary. The first family she interviewed in January '06, a family that's been homeless more often than not over the past dozen years, agreed to let her "invade" their lives. She was with them as they prepared for their first Christmas in their own home, the FEMA trailer they bought after living in it for 18 months following Hurricane Ivan.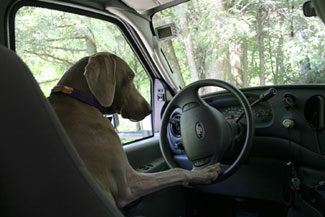 January 2007 -As hard as it was to leave Florida's Emerald Coast, Diane had places to go and things to do. She came to rest in Opelousas, LA, where she spent significant time filming the director of New Life Shelter, Angela Angelle, who, with her 7 children, had been a resident of the shelter 10 years ago. Miss Angela made sure Diane had plenty of Louisiana cuisine to help her remember Opelousas hospitality!
February- If it's February, Diane must be in Las Cruces! Her return visit was even more special because the reception was extremely welcoming (and she knew her way around a lot better!). Nancy Sanders, Las Cruces Public School District Homeless Liaison, took advantage of Diane's visit and arranged several presentations to a variety of audiences. Pamela Angel, director of the Community of Hope campus (services for homeless persons) provided a "campsite" and lots of help connecting Diane to local resources. Diane was able to personally deliver pre-release videos to some of her film stars.
March -"March Madness" has new meaning for Diane as she traveled to Scottsdale, accommodated by Rich and Mary Jean, friends of HEAR US board member Sr. Helen. They kept an eye on the RV as Diane flew off twice to New York for presentations. In Phoenix, Diane connected with one of the families in the video and saw the amazing McKinney-Vento family center, led by Roxanne Richardson, in action. While in NY, Diane used MOFW to wow audiences! Diane popped into Chicago mid-March to receive an award and hold the very successful premiere screening of My Own Four Walls. She also presented to Columbia University School of Social Work students and met with the Dean of SW at New York University. Quite a full month! She then headed up to Reno to promote the video, film, and make the last trip to NY. McK-V liaison Gloria Bratiotis and her staff took great care of Diane, not letting her rest for a second!
April- Spring means different things to different people, and this spring will always go down in Diane's memory as freezing cold and windy! After Diane left sunny, warm Reno, her memory was refreshed as to fickle spring. Winds blew her across Utah, Nebraska, and Iowa. It was so cold and miserable in Iowa that she just abandoned her plans to get work done at a quiet state park and steered the wind-swept RV to IL. The Benedictine Sisters in Lisle found a sheltered spot for her and all was well again, except for the snow. Diane's IL schedule was full-presentations and meetings-all of which were fruitful. She even managed a few rounds of her favorite leisure activity, disc golf, and the HEAR US board got to sit at one table to meet and enjoy a simple cook-out (Chef Diane) before she headed off again...
Journey 3 ~ July 2007
July-August, 07-Summer in IL, as most places, is hot. In between working with Laura on video, writing grants, and getting caught up on lots of tasks, Diane returned again to DC, this time to share information with Congress members of districts where My Own Four Walls (MOFW) participants live about the homeless definition issue. She also was invited to the ABC World News studios for an interview which will eventually air online, with clips of MOFW. Returning to IL, plenty of work waited in preparation for the end of August departure for New England.
Sept., 07- New England is a great place to spend the month of September. Diane has several speaking engagements in the area and has been kept busy between driving through some of the most beautiful part of the country. A dismaying observation: homeless families camping in state parks, some victims of the subprime loan scandal.
Presentations in NY and NH generated lots of interest in MOFW, and offers for future presentations seem imminent. A weekend break in the Adirondacks, thanks to a great parking place from Duane, gave Diane the treasured opportunity to hang out at the Adirondack Hot Air Balloon fest, a true joy!
Oct. 07-Diane spent a hectic few weeks in IL, working with Laura on filming prep, squeezing in a few events, and getting the RV serviced before heading to the northwest part of the country in time for the NAEHCY conference in November. A big event-Diane was invited by Congresswoman Judy Biggert to testify to the House subcommittee on Housing and Community Opportunity of the Financial Services Committee. She flew out to DC, testified and headed back to IL. Reaction to the testimony was initially positive, with the true results to be revealed as the committee decides on the importance of homeless families and unaccompanied teens. Mrs. Biggert, Diane and Cathy, a mom from Hope Haven shelter in DeKalb, shared an engaging session with WBBM-AM's Craig Dellimore for his At Issue radio show. Diane also squeezed in a TV interview with NCTV-17, Naperville's cable station, which also scheduled multiple showings of MOFW during November.
Nov. 07-This is one very wide country, especially when driving westward to Portland, OR from IL. Weather held as "Tillie" the RV safely crossed the Rocky Mountains, a potentially hazardous part of the trip. Diane spent much of this month in the beautiful state of OR, preparing for the NAEHCY conference and recuperating from it! Thanks to a homeless family social worker near the state park Diane stayed in, Diane was able to meet and film a family who lived in a tent for the past 6 months. The good news...2 days before Thanksgiving the family was able to move into a real house. Jessica, the SW, pursued every possible lead and resource in getting that to happen!
Good news came in bunches: NAEHCY awarded HEAR US the Outstanding Media Award for My Own Four Walls. Chicago Fox TV's Mark Saxenmeyer received an Emmy for the HEAR US story he did last Thanksgiving. A South Korean TV news station expressed an interest in HEAR US and may connect with Diane as she does some filming. And the long-awaited CBS News piece finally ran.
Dec. 07-Reno is on the list of stops as Diane heads down to Phoenix and Las Cruces to meet Laura and concentrate on filming. An interesting twist-Diane received a request from a South Korean TV News program (ala 60 Minutes) that wanted to film her in action. A Reno family just evicted from their home agreed to be filmed being filmed. Diane headed out of Reno just as the snows were peeking across the mountains.
Jan. 08-On-site filming for the feature-length documentary proceeded in Phoenix and Las Cruces. Diane's treasured film partner, Dr. Laura Vazquez, media guru from Northern Illinois University, began her sabbatical to work on this exciting project, joining up with Diane in these locations. Tremendous cooperation from families and agencies provided spectacular filming opportunities.
Feb. 08-Diane and Laura continued filming for On the Edge. They worked in Opelousas, LA, and Milton, FL.
March 08-"March Madness" again as Diane travels (by air) 3 times to New York for presentations. She'll leave the lovely Emerald Coast of Florida and head up to Atlanta to wait for winter to exhale its last breath in IL (ha!) before heading to Moline at the end of the month.