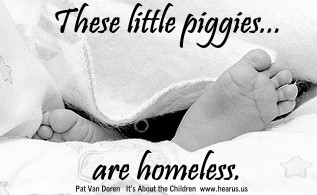 These little piggies are homeless...
and invisible.... HEAR US wants to give them visibility!
Community leaders, policymakers, and concerned members of every community need to know that over 1.6 million children are homeless, many of them infants and toddlers.
Families with babies and young children need housing, child care and other services. But if people don't know they exist, they will get little help.
Make a donation of $10 or more to HEAR US Inc. and receive a poignant Piggies poster. Donate securely here. Let us know you want a Piggies poster. Make sure we have an mailing address!
Sign up for our free monthly e-newsletter.
Name:
Email:
We don't share our email lists.